With "Throwing Down the Gauntlet" airing tomorrow night, the interviews with Sharon Lawrence, who plays Maura's biological mother, have begun to appear.
Here are the two most recent interviews:
Were you already a fan of Rizzoli & Isles? What attracted you to playing a role on the show?
Sharon: Yes, I was very interested in the launch of it because for years I've worked with an organization called Women In Film. We are a support network for women in the executive and creative positions in the industry. So the fact that it was a show sourced from material written by a woman and then created as a television series by a woman and it stars these wonderful actresses and is about women in the workplace, I was very interested.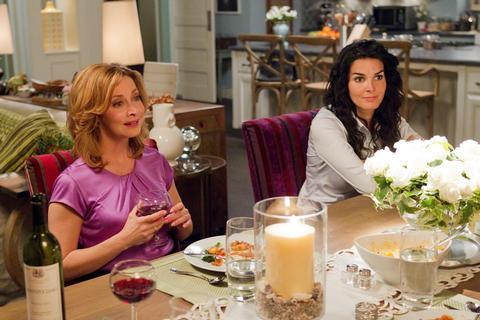 What can you tell us about your character?
Sharon: I play Dr. Hope Martin who is the birth mother of Maura Isles. She is someone who we find out from Maura, not only shares the DNA of our leading lady but shares a passion for science. She herself is a pathologist and works to develop techniques to identify the remains of victims of the Bosnian wars. So she has dedicated her after the loss of a child to connecting those who have passed with their families and their stories. I think it may be a window into the psychology of loss. Especially women, are so committed to connecting, that even in the midst of their own sense of loss they may find healing in helping other people. Particularly to fill the gaps of the mystery of a story.
So, does Hope know that Maura is her daughter?
Sharon: This whole relationship is still a mystery to Dr. Hope Martin. She is not aware that the woman just inches away from her across the lab table is indeed the daughter that she thought died at birth.
Are you in one episode or is it a longer story arc?
Sharon: It's a longer story. There are three (episodes) at this point.
Can you share any behind the scenes tidbits from the set?
Sharon: Sasha Alexander is such a great actress and such a lovely person. She has a great sense of balance in her life. I felt really compelled to find the resemblance (between the characters). I mean, we look alike which was helpful and kind of stunning how much we did favor each other but the physical behaviors is what I found really interesting. To observe her as an actor and try to incorporate that into some of my own characterizations. It was also really fun to watch Angie Harmon and Lorraine Bracco together. They're a scream. They should just take it on the road. They are really entertaining.
Source
tv spoilers
PCM also did a great interview with Sharon Lawrence where she talks more about working with Sasha Alexander and Bruce McGill.
Whether you know her from film, stage, or TV shows like her groundbreaking role on
NYPD Blue
,
Sharon Lawrence
is a face we guarantee you recognize!
Her career has spanned decades, her fan base crosses generations and her resume runs the gamut with roles from everything to an ADA, a prostitute, a serial killer and many, many more! But now Sharon is adding another line to her resume with her guest starring arc on
TNT
's fan favorite series
Rizzoli & Isles
when she stars as Maura Isles' biological mother,
Dr. Hope Martin
, a character who's been referenced throughout the course of the series, but never yet come to life on the screen – until now!
Sharon will be starring in
two episodes, airing Tuesday, July 3, and Tuesday, July 10, at 9 PM on TNT
. In those episodes, we'll come to meet Dr. Hope Martin as a result of Jane looking for a way for Maura to meet her biological mother. But as Maura makes a deeper connection with Hope and her teenage daughter, Maura's half-sister, things get a little complicated because they still don't know Maura is related to them. Sounds like we're in store for something special!
Just this week, I had the chance to speak with Sharon about her upcoming guest appearance and all that it entailed. We also got to do a little reminiscing about the short-lived but fantastic series
Wolf Lake
from 2001, where Sharon starred alongside the incredible
Bruce McGill
, a Rizzoli & Isles regular Detective Vince Korsak, where they played husband and wife.
Not only was Sharon an absolute pleasure to speak with, but she is very evidently and genuinely invested in Hope's storyline, the overall series and the relationships fostered on set. Suffice to say, we were more than excited when she told us she was returning very soon to film a third episode!
Check out everything she had to share with us below and be sure to
tune in for all new episodes of Rizzoli & Isles every Tuesday at 9 PM on TNT
.
I have to tell you that I was so thrilled to hear you'd been cast as Maura's biological mother, because not only is there a spectacular likeness between you and Sasha Alexander, but I'm a huge fan of Wolf Lake, so I'm so happy to see you and Bruce McGill reunited on another show!
[laughs]
Wow! Well, you made my day… on both accounts. I agree with you that there is a striking physical resemblance between
Sasha
and I. When we were first in each other's presence, it was a thrill because it just doesn't happen every day like that. We look more alike than I look like my own mother, so when you find that doppelganger and you can use it to a great advantage, that's icing on the cake.
And it was fun to work on incorporating the quirks that Maura is given and to find a way to echo that in Dr. Hope Martin, so thank you for noticing that we had a real leg up. And to the suspension of disbelief, which is part of our job as actors, we didn't have to work very hard on this one.
And then, the lovely and charming
Bruce McGill
! The fact that you're aware of
Wolf Lake
really does warm my heart. It was a great experience to be on that show! It was a tough time because we were filming it when 9/11 happened, when the attacks happened, and it was such a dark time in our hearts and mind, and a show like that was an interesting thing to work on.
You know,
Paul Wesley
played our son in it, and
Tim Matheson
, these were people who I really was glad to be in the company of in such a tough time. We were in Canada shooting it and we needed each other to lean on, so the fact that I'm in Bruce's presence again on this is great! We'd done a play together, so we spent a lot of time [together] in the interim years, but, boy, he is a real light to any set he is on.
I bet! Any chance we'll get to see any scenes between you and Bruce on Rizzoli & Isles?
Well, so far, the storylines have not intersected, but I'm going to do a third episode in the very near future and we'll see if that makes sense to the writers. I think for us, just the fact that we can sit down and have lunch together is really gratifying.
Oh, absolutely. How about with the rest of the cast? It just seems like it would be such a welcoming set and so easy to join that family, in a sense.
You are so right! One of the great lights, I mean, I knew that
Angie [Harmon]
was a good home girl from Texas and her family now lives in my hometown of Charlotte and we have a lot of things to share that way, but Sasha is a gracious, charming and authentically balanced gal. It's a beautiful thing to watch her lead that set in such a graceful way. I'm so impressed with how she comports herself raising kids, you know, Angie's doing it, too, and they inspire me, they really do.
And
Janet [Tamaro],
the show runner, who has teenagers and knows what it's like to be living in a different phase of life with her family, and who is out there as a leader in our business with a creative commitment to the complexity that women really do exhibit in the workplace, in the world, as mothers, as daughters, as friends, as colleagues. It's inspiring and we need more shows like this.
It's something that I've been committed to as a leader of
Women in Film
, the organization that has been around for 35 years. We help move women into executive and creative capacities within the business, but we also are there to champion the fact that stories are what motivate all of us out in the world. Its how we see who we are and how we view each other. [Women in Film] is doing that in a way that I am very, very glad to be a part of.
And to be around
Lorraine Bracco
is just a kick! She's a real light. She has a laugh that's infectious and keeps that crew just delighted. So, it's a good environment!
That's so wonderful to hear! Now, the ground for the character of Maura's biological mother has been referenced and built upon throughout the series, so as an actress, is there any difference for you when you come to play a character like that versus a character that is completely new to the audience when they appear on screen for the first time?
What a great question. Yes, it's different, but it is also really – it sounds sort of flippant and I don't mean it as such, but it is my job to stay in the reality of Hope Martin's mind, to not project, to not get ahead of what my character could possibly know. You know, life is circuitous even though we think we have a logical sense of something. The other pieces that we don't know about will come into play and we have to accept and integrate them.
Hope Martin is a character that the audience knows a lot about or they think they do, but there's stuff that they have no idea about! They don't know that she is a scientist herself, they don't know that she developed a technique to identify bodies in war zones that existed way before we had the benefit knowledge of strong DNA processes. She reunites the dead with their families and with their own story and here she is a woman who has a huge hole in her own story. You know, a child that she has lost and is living without any hope of ever finding, but she has chosen a field and dedicated herself to healing that wound for other people.
We don't know that through the story until we meet her. We don't know her complex devotion to the daughter that she is raising now, her teenage daughter. There are things we can't possible know, so we will learn about this character in a way that is really the way we learn about everyone. We have our assumptions and then we get more.
Right, and it certainly seems like Maura didn't fall too far from the tree there.
Isn't that something? You know, I think it's completely credible. People have aptitudes that they are born with and, of course, someone like Maura who is as driven by her analytical brain, she would never just be satisfied with an imaginary version of what she considers to be the truth in her head. She's going to have to pursue it and she's going to have to have hard facts about who this part of her life is, who the nature aspect is.
She knows who the nurture is, but we all have both and she cannot go without at least exploring that. So it's a big risk that she takes, but one that's understandable for a character like her.
Absolutely. And, you know, there was a very powerful scene when Maura found out that Paddy had faked Baby Maura's death and that's why Hope never came looking for her. Maura had a very emotional reaction to that, so when Hope learns the truth will there be a likewise reaction? Or, should I ask first, will Hope learn the truth before these two episodes are out?
Well, that is really what is weighing heavily on Maura. She knows that this whole scenario is rife with betrayal, with people whose intentions are — whether it's the duality of a gangster or the mystery of her adoptive mother's choices. She knows that uncovering the truth could hurt a lot of people, so she's the one who really holds the cards here. It's interesting that Hope really doesn't have much control in this situation at all. She's on a ride that she doesn't even know she signed up for.
Source
pcm-tv.com